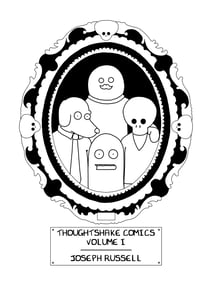 £

9.99
(The Feed The Artist Edition comes with a special doodle in the front, to say thank you for buying the version of the book that gives me the highest profit margin.)
Once every decade or so, a comic book is released that redefines the genre. A book that speaks for everybody, and that exhibits an insight far beyond the crude drawings contained within its pages.
This is not that comic book.
Instead, Thoughtshake Comics Volume I is just a collection of comics about death, dicks, Dog Police, ghosts, space, and more. Inside, you will find over 100 comics, including digitally remastered versions of the best from the Thoughtshake Comics website, and new never-before-seen comics created specially for this book.
Some of the comics contained in this book are rude. Most of them are stupid.
124 pages perfect-bound paperback, printed in Black and White.